29.07.2021
Important update concerning the exceptional flooding on the Infrabel network
Infrabel provided following update
29.07.2021 18 PM
Various railway lines in Wallonia that were damaged by the floods will be put back into operation on Monday. This was announced on Thursday by the railway company SNCB and the network manager Infrabel. The connection between Gembloux and Ottignies, which was again damaged by last weekend's storm, will only be resumed on 30 August.
Trains will again be running on Monday on the Auvelais-Gembloux, Liège-Bomal and Liège-Trois-Ponts lines. Also between the stations of Rochefort-Jemelle and Poix-Saint-Hubert, rail traffic will be possible again on Monday, a week earlier than expected.
The connection between Ottignies and Saint-Joris-Weert will be partially opened, with train traffic running on a single track from Wavre onwards.
The Anseremme-Dinant link is also expected to be reopened from 9 August. The reopening of the railway line between Dinant and Namur will take another week, until 16 August. The bad weather that hit Dinant last weekend caused additional damage.
Trains between Chênée and Pepinster and between Pepinster and Spa will probably only resume on 30 August. The same target date now applies to the Gembloux-Ottignies line, where repairs have been delayed.
The updated map below gives an overview of the reactivations, according to colour codes: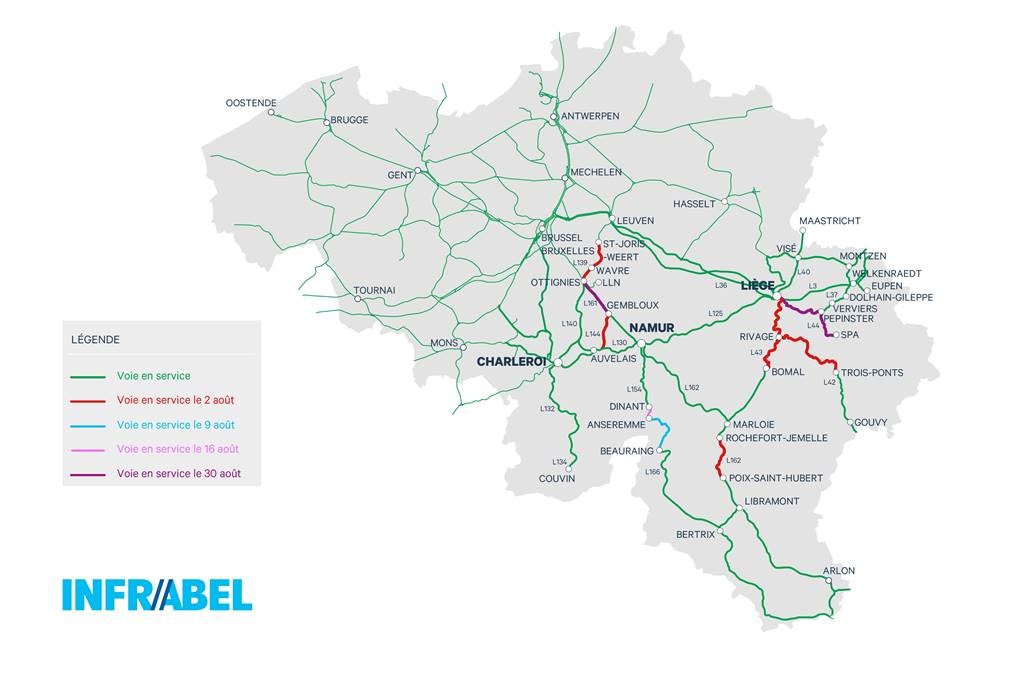 26.07.2021 14 PM
The railway section between Wavre and Sint-Joris-Weert in Flemish Brabant (L139) should be back in service on Monday 9 August, a week later than planned, Infrabel, the railway network manager, announced on Monday.
The heavy rain that fell on Walloon Brabant last weekend weakened some embankments. There are also major repair works to be carried out following the collapse of mounds of earth on the tracks.
In Basse-Wavre, catenary structures were weakened by the flooding.
In addition, the progress of repairs to the signalling system depends on the delivery of certain components which are not always immediately available.
The updated map below gives an overview of the reactivations, according to colour codes: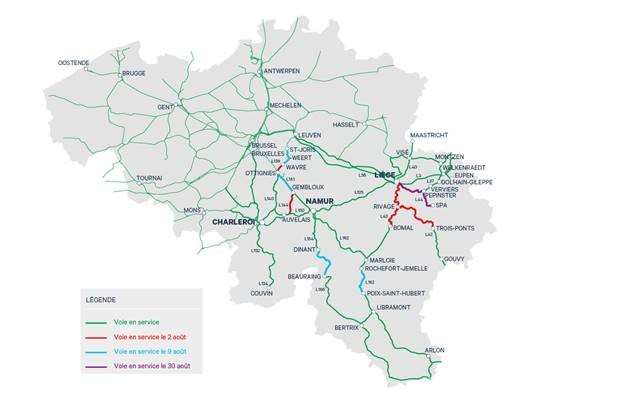 Further updated are expected the coming days and will be communicated as soon as they are available.
23.07.2021 11:00 AM
The lines of RFC North Sea – Baltic and RFC Rhine-Alpine are open.
However, some lines in Belgium are closed. Please check the website of Infrabel for more detailed information on the situation in Belgium.