Geographical Outline
Rail Freight Corridor North Sea – Baltic runs through eight of EU Member States: starting in North Sea ports of Antwerpen, Rotterdam, Amsterdam, Wilhelmshaven, Bremerhaven and Hamburg spreading in central Germany through Aachen – Hannover/Hamburg – Magdeburg with a northern branch through Berlin to Poznan - Warsaw – Terespol (Poland-Belarus border)/Elk (Poland-Lithuania border) -Kaunas with broad gauge extension from Kaunas to Riga and further to Tallinn including Baltic Sea ports of Ventspils, Liepāja, Paldiski, Muuga and a southern branch to Falkenberg – Wroclaw – Katowice/Dresden – Prague.
Below map presents the detailed alignment of the Rail Freight Corridor North Sea – Baltic with division into line categories.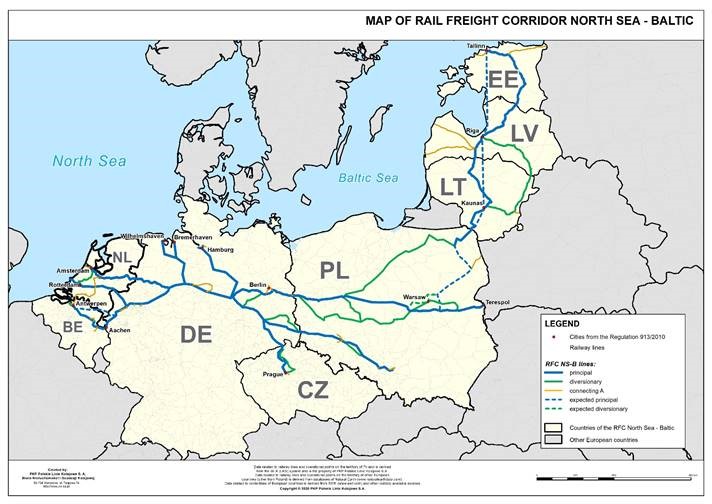 Alignment of the RFC North Sea - Baltic, copyrights PKP PLK S.A.
Rail Freight Corridor North Sea – Baltic infrastructure contains:
4480 km of principal lines
2524 km of diversionary lines
1008 km of connecting lines
950 km of expected principal and diversionary lines
202 terminals
10 sea ports: (Antwerp, Rotterdam, Amsterdam, Wilhelmshaven, Bremerhaven, Hamburg, Ventspils, Liepāja, Paldiski, Muuga)