Geographical Outline
The Corridor runs through eight EU Member States: starting in the North Sea ports
of Antwerp, North Sea Port (Gent/Terneuzen), Zeebrugge, Rotterdam, Amsterdam, Wilhelmshaven, Bremerhaven and Hamburg spreading in central Germany through Aachen, Hannover, Magdeburg and Berlin to Warsaw and the Polish-Belarus border in Terespol. A branch leads from Magdeburg to Prague via Falkenberg and Dresden. In Falkenberg starts the Southern branch in Poland to Wrocław, Katowice and Medyka. Another branch goes from Warsaw to Kaunas, then to Riga and Tallinn.
Below map presents the detailed alignment of the Rail Freight Corridor North Sea – Baltic with division into line categories.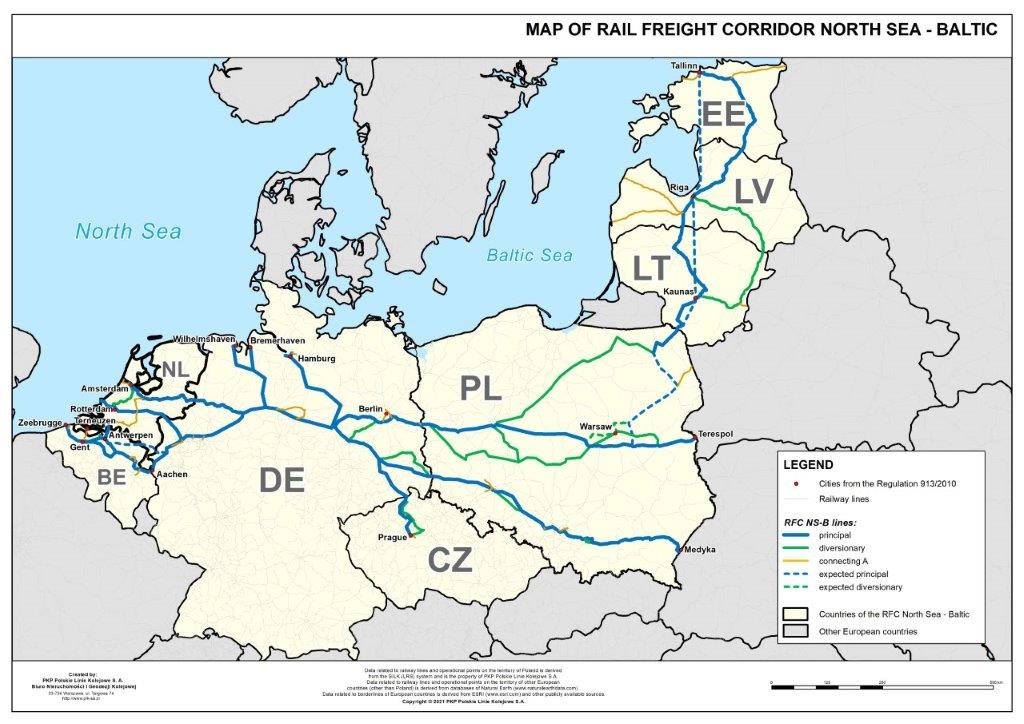 Alignment of the RFC North Sea - Baltic, copyrights PKP PLK S.A.
The RFC NS-B infrastructure contains:
5253 km of principal lines
2552 km of diversionary lines
891 km of connecting lines
960 km of expected principal and diversionary lines
257 terminals
14 seaports: Antwerp, North Sea Port, Zeebrugge, Rotterdam, Amsterdam, Wilhelmshaven, Bremerhaven, Hamburg, Riga, Ventspils, Liepāja, Paldiski, Muuga and Sillamäe